February 17th, 2016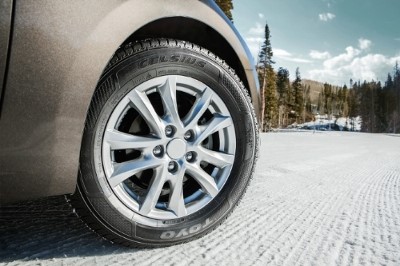 All-weather tires are an emerging trend in the tire industry, and when the Toyo Celsius variable condition tire launched last fall, Consumer Reports thought it seemed very like the Nokian WR G3 all-weather tire. So the consumer advocacy organization decided to compare them.
Toyo describes the Celsius and Celsius CUV tires as variable conditions tires — with performance like an all-season tire on cleared roads and winter-tire-like grip on snow and ice. Nokian says its advanced new-generation all-weather WR G3 is designed for different vehicles and drivers but for any weather.
Consumer Reports endorses the concept of all-weather tires saying, "They make a lot of sense for drivers who live in the snowbelt and want more traction than the typical all-season tire but don't want the inconvenience of buying a second set of tires for winter use."
Alaskan drivers accustomed to using studless winter tires year-round will benefit from better tread-life and more stable performance on wet and dry roads in breakup and summer season.
PUTTING THE TIRES TO THE TEST
According to Consumer Reports, the tests found the new Toyo Celsius and Nokian WR G3 both delivered solid winter traction.
While snow tires might perform better on snow and ice than the Toyo and Nokian all-weather tires, the all-weather tires had better stopping ability on cleared pavement and better handling overall.
PERFORMANCE RESULTS
The report gave the Toyo Celsius and Nokian WR G3 virtually identical overall scores, placing them in the upper half of Consumer Reports' winter/snow tire ratings chart. The tires performed similarly in most of the tests. The Celsius was found to have a longer stopping distance than the WR G3 on wet road surfaces, although it was still shorter than many dedicated snow tires.
However, the Celsius' tread life was predicted to be longer than the WR G3, with the Celsius having a 60,000 treadwear mileage warranty and the WR G3 55,000. The Toyo Celsius is available in 14-17-inch tire sizes to fit many family cars, and the CUV version comes in 17-20-inch tire sizes for trucks. The Nokian is available in 14-19-inch tire sizes.
Consumer Reports found the Toyo Celsius all-weather tire to be more affordably priced and offered a longer tread life in the measured test size (215/60R16).
We can't publish the Consumer Reports chart of winter tire tests but the findings show dedicated winter tires and year-round all-weather perform very similarly with snow traction. Scores diverge with regard to braking, hydroplaning, and handling with the all-weather tires outperforming dedicated snow tires when the roads were a mix of dry, wet, snow.
WHAT THE MANUFACTURERS SAY


Celsius is the revolutionary variable-conditions tire with better ice and snow traction than a typical all-season tire and longer tread life than a winter tire. Built for convenient year-round use, Celsius stops up to 14 feet shorter on snow and eight feet shorter on ice than a typical all-season tire. It also performs well on wet and dry roads plus comes with a 60,000-mile warranty. Toyo Celsius means year-round versatility plus winter-weather safety in one.
The new Nokian WR All-Weather tires offer a virtuoso combination of safety and carefree driving pleasure for every season. This advanced new-generation tire family is a reflection of Nokian Tyres' work at its best: WRG3 is designed for different vehicles and drivers but for any weather. These environmentally friendly premium products feature nanotechnology, canola oil and the solid winter expertise of Nokian Tyres, which guarantee their reliable functionality in the typically varying weather conditions of North America.


FEATURES AND BENEFITS:
Variable Sipe Density

Inside Tread: Higher sipe density for excellent traction on ice and snow.
Outside Tread: Lower sipe density for traction on wet and dry roads.

Snow Claws

Improve deep snow traction.
Increase block rigidity for better ice and wet traction.

Slush Grooves

Evacuate slush for increased traction on slush and snow.

Multi-Waves Sipes
Minimize irregular wear for a smooth, quiet ride.
Improve braking on icy, wet and dry roads.
Available in 14-17-inch tires and CUV from 17 to 20 inch
Absolute grip and excellent handling in all winter conditions
Stable and easy to control even at high speeds
Low rolling resistance to save fuel and environment
Severe service emblem or mountain snowflake symbol designation rated for use in severe winter conditions
You can drive about 30 miles on an empty tire if the car is fully loaded
DSI and WSI indicators
Silent Groove Design
3D self-locking siping
Available in 14-19-inch tires


---