May 18th, 2018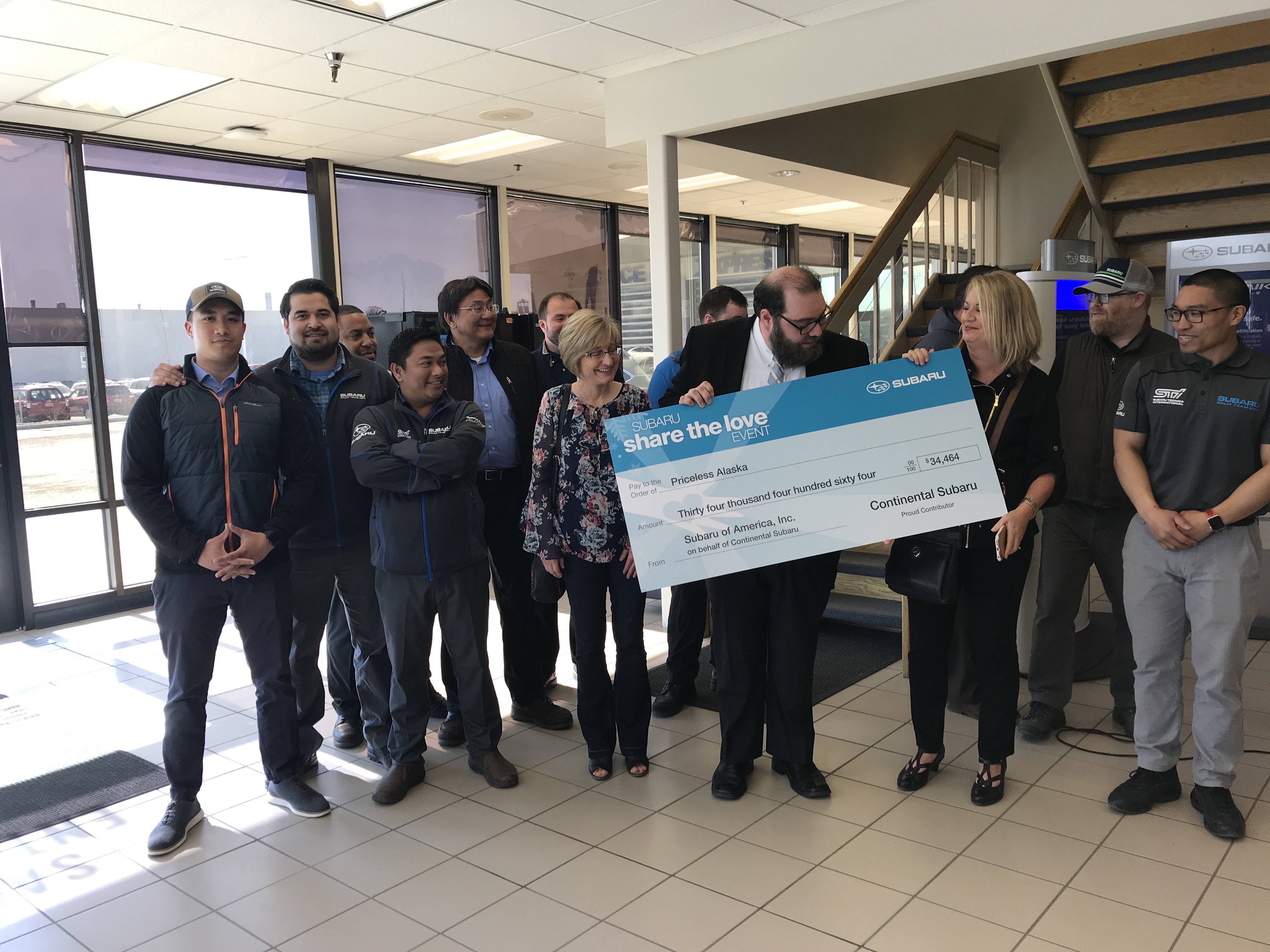 It's not an easy topic to consider, and uncomfortable to comprehend that it's happening right in your own community, but the hard truth is… sex trafficking is the fastest growing, most lucrative, crime in Alaska.
Priceless Alaska, a small Anchorage non-profit organization, whose mission it is to help victims escape their circumstances and connect them to resources, was chosen as Continental Subaru's Hometown Charity recipient during this year's annual Subaru Share the Love program.
Working closely with various law enforcement officials, victims are referred to Priceless Alaska where their immediate needs are addressed and then are assigned mentors that assist the survivor in navigating all the resources that are available to her. Resources range from emergency and long-term housing; counseling; medical and legal services; job training, and education completion.
The entire auto group team chose Priceless Alaska during a nomination process involving everyone's input at Continental Auto Group, a family owned and operated Anchorage group of dealerships.
On April 13th, Continental Subaru presented a check to Priceless Alaska for $34,464.
"The funds provided through Subaru's Share the Love event will allow us to continue the important mission of reaching and resourcing survivors of human trafficking, one of the most heinous crimes imaginable. Lives will be saved, new futures will be made possible, and hope will invade hopeless situations because Subaru is sharing the love with Priceless this year," commented Adam Legg, executive Director of Love Alaska, the parent organization of Priceless Alaska.
Over the past four years, Continental Subaru has presented over $160,000 to local Anchorage charities thru Subaru's Share the Love event. Past recipients have been: Eva Foundation, Nordic Ski Association of Anchorage; Catholic Social Services of Anchorage and Newborns in Need.
From November 17, 2016 to January 3, 2017, customers who purchased or leased a new Subaru vehicle could select from a list of charities to receive a donation of $250 from Subaru of America. Since the start of the "Share the Love" program in 2008, Subaru of America has donated approximately $115 million to a number of worthy causes through the "Share the Love" event. The four national charities selected by Subaru of America are: ASPCA®, Make-A-Wish®, Meals on Wheels Association of America® and the National Park Foundation.
---