October 17th, 2018
/images/uploads/blog/areyouready.png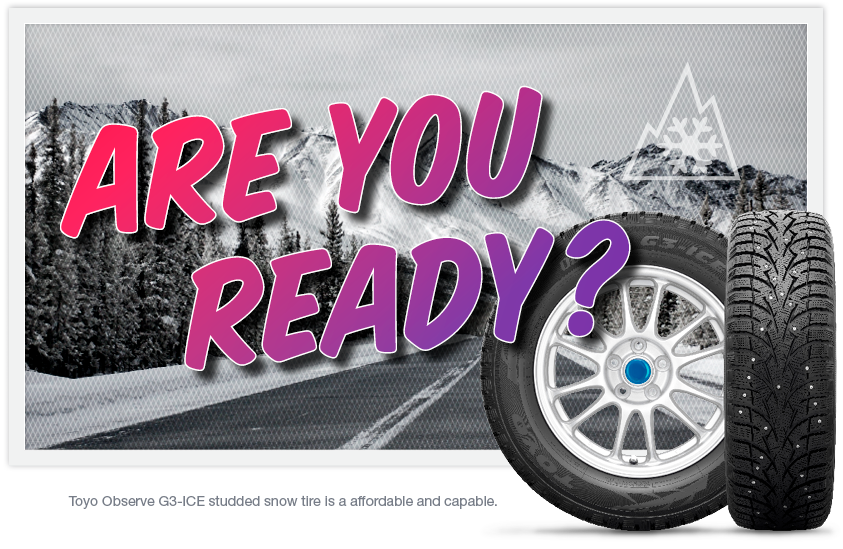 Termination dust is creeping down the mountains and winter is beginning to show signs it will, in fact, arrive despite any attempts to avoid it. Brisk mornings bring thoughts of ice, frost, and snow. It's time to change over to your winter tires! (Continental has our specials posted here Tire Change Over Specials.) But, perhaps, this year, you find yourself in need of a new set? We've got you covered with effective and affordable Toyo winter tires. The popular studded Toyo Observe G3-Ice competes in the top-tier of the Consumer Reports rankings and performs very well in driving conditions that affect Anchorage. Not convinced they're for you? Toyo offers a 45-day or 500-mile 'No Regrets' return policy—simply return them, we'll help you find something you will like!
We're pretty sure you'll love the Toyo tires on their own but we know the price is always a factor. For that reason, we also shop the competition to be sure our customers always get a great value. The most tire for the best price, with free installation, shuttle service, and Kaladi Bros. coffee.
Store
Studded Tire
Price
Studless Tire
Price
Mount & Balance
Included
Shuttle Service
Alaska Tire Service
Hankook RW11
$757.80
Blizzak
$957.80

$15 Fee

Alyeska Tire
Norman 7
$984.80
Nokia R2
$1124.80
No Shuttle
American Tire & Auto
Hankook iPike
$760
Blizzak
$837
No Shuttle
Anchorage Tire Factory
Nokian Hakka 9
$1118
Nokian Hakka R2
$962.96
No Shuttle
KD Discount Tire
Master Brand
$750
Master Brand
$680
No Shuttle
Continental Tire & Auto
Toyo G3-ICE


$672.50

Toyo GSi-5


$668.08
Reference vehicle: 2018 Honda CR-V • 235/60R18 • Shopped October 1, 2018
Prices include installation but do not include fees for tire disposal.
---